We are now proud to be your only approved Tilley hat provider In Johnson County
Often copied, never quite equaled, the Tilley Hat is the most all-purpose chapeau I know. Its broad brim keeps the sun or light rain off, the bit of foam in the flat crown pads the skull against light whacks and keeps the hat floating in water, and the double strap defeats all wind.
Tilley Endurables Hat - Guaranteed for life against wearing out. All Tilley Endurables Hats tie-on in the wind, float, and won't shrink or mildew. Tilley Endurables Hats are perfect for water sports, for hiking, for gardening, and for all outdoor activities.

Sun Protection - All Tilley Endurables have been tested and certified to an Ultraviolet Protection Factor (UPF) of 50+, the maximum rating given. Hats with a UPF of 50 allow 1/50th of the UV radiation falling on the surface to pass through it. Stated another way, they block 98% of the ultraviolet radiation.

The LT3 model is the most sought-after Tilley Hat. It has a medium-sized brim that snaps up in the Aussie manner. Two color combinations feature dark under-brims which help to reduce reflection from water, snow and sand. A Tilley LT3 is a lifetime investment in sun protection and smart appearance.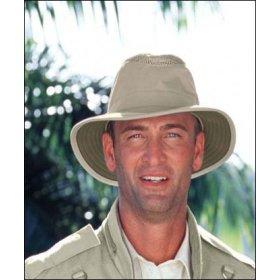 The Airflo LTM6 Hat provides sun protection in a lighter weight construction. This hat sports a broader brim, plus the higher crown that duplicates the style and features of the LT6, but with the added cooling benefits of a 5/8 inch open weave mesh band at the top of a high crown. It's cooler for sure, but has the same superior sun protection of UPF 50+ that is certified to block 98% of harmful UV rays.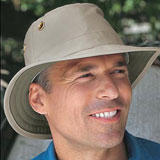 The T4 Hat has a down-sloping and wider brim for those who prefer ample protection and shelter from the sun. This is stylish head gear for an afternoon on the golf course, relaxing in the garden or fly fishing on your favorite stream. As with all Tilley Hats, the T4 repels rain like a duck's back, floats like your favorite canoe and delivers an Ultraviolet Protection Factor (UPF) of 50+.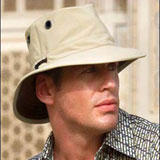 The LT5B Breathable Nylon Hat is styled with the medium, semi-sloping brim size of the Tilley LTM5 and T5 Cotton duck models.
Many other Styles to choose from in the store. We can special order any hat size from 6½ to 8+.