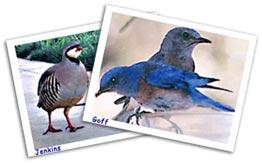 Customer Pictures
This is where we display photographs/images that you, our customers, have sent to us either by postal mail, by email, or in person.
If you have an appropriate picture you'd like us to put on our Wild Birds Unlimited web site, our mailing address is 476 Shotwell Rd. – Clayton, NC 27520 Our email address is [email protected]
If you leave or send us a self-addressed stamped envelope, we'll mail you back your picture(s) as soon as we get them online. We'd also appreciate any relevant details about the shot itself, such as species of bird, location taken, date, etc.
And while we can't promise we'll get every picture up here right away, we'll certainly try our best!