Hummingbirds Return
From Southern Winter Homes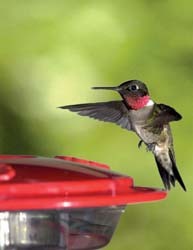 Prepare for your neighborhood to be all abuzz, because hummingbirds have been spotted throughout the area. These miniature marvels have been migrating between North and Central America for hundreds of years, a round trip in which millions of hummingbirds instinctively participate.
For the next few months, backyards around the area will be playing host to these amazing, food-frenzied birds. They possess the fastest metabolism of any animal on the planet, burning through between one to two times their body weight in food every day.
Despite popular belief, hummingbirds do not suck up nectar with their bills. They actually lap it up with their tongues, drawing nectar from its source up and into their mouths almost 12 times a second.
Hummingbirds will head back to Mexico and Central America in late summer, early fall.Hummingbirds'
Migration Marathon
Could you finish a marathon race? How about 38 of them, a distance just under 1,000 miles?
Well, as crazy as it sounds, that's what some hummingbirds are doing right now.
The next couple of months are your best opportunity to see hummingbirds. Adult hummingbirds are now joined by a horde of juveniles as they head south to Central America and their winter territories, some traveling thousands of miles.
It's estimated that more than seven million Ruby-throated Hummingbirds return to the tropics each winter, along with six million Rufous, three million Broad-tailed, and millions of other individuals of various hummingbird species.
En route to their destination, hummingbirds will take part in an eating binge that is unmatched at any other time of the year. A high-calorie diet is important to build fat reserves for their migratory trip. So be sure to have your hummingbird feeders filled with a nectar solution.
Bird banding studies indicate that, with very few exceptions, the hummingbirds visiting your feeders on a late-migration day are completely replaced by a new wave of migrants within 24 hours.
To estimate the number of hummingbirds using your feeders during migration, multiply times five. For example, if you see 10 hummingbirds at your feeder at one time, you will have about 50 passing through your yard that day.
Make sure to leave your hummingbird feeders clean and filled with nectar until at least 2 weeks past the last time you see a hummingbird. This will help them beef up for their southern migration. It is a myth that hummingbirds will not migrate unless you remove your feeders. Do not remove their most reliable food source at such a detrimental time.
Visit us soon, and we'll make sure you have everything you need to enjoy these miniature migrating marathoners.
Tony Nicosia