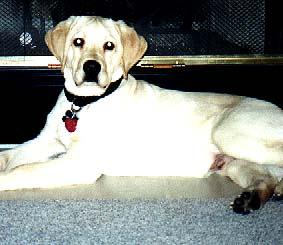 Meet Sophie Our "Store Manager"
Sophie: "Earns Her Keep"
Article from the Sheltering Times Magazine (March 2012)
By: Sarah Melton
Tony Nicosia has seen his dog, Sophie, bring comfort and joy to so many people in times of need. The English Labrador Retriever is a trained therapy/Service dog that works with people in Wake, Johnston and Wayne counties. Sophie, 3 is an American Kennel Club Star Puppy and, a graduate of its Canine Good Citizenship Program. In July of 2010 she was certified as a Therapy Dog by the Delta Society. In April of last year she reached a new milestone. After six months of additional training, The Autism Society of North Carolina tested and certified her as a Service Dog for Autistic children.
Sophie often accompanies Tony, and his wife, Linda, on presentations and fund raising events to teach others about the importance of therapy / service dogs. Therapy dogs go with their owners to volunteer in settings such as schools, hospitals and nursing homes to improve the lives of other people. However, therapy dogs are not service dogs. Service dogs are specifically trained to perform tasks to help disabled people and have access privileges in public places. Therapy dogs do not have those privileges and must often be invited to a place of business.
Sophie has works with people of all ages, from the elderly and sick to children with psychological problems. In one case, she worked with some troubled middle school students from Clayton who seemed to think the world revolved around them. The students learned the importance of sharing by petting, grooming and walking Sophie. Suddenly, their world revolved around Sophie, not themselves. Tony says "This is really cool to watch."
Sophie can often be seen at Nicosia's store, Wild Birds Unlimited Nature Shop in Clayton, North Carolina Monday through Saturday. She has Sundays off. Some customers come to the store just to visit Sophie. For others that are a bit leery of dogs, Sophie can usually warm their hearts in a few minutes.
Sophie has not only been a blessing to Nicosia's family, but to so many other people as well."We've always wanted to have a therapy dog," Nicosia said. "It was kind of an outgrowth of our desire to reach out to the communities that we live and work in.
During the month of December Sophie, Tony and Linda do an annual food drive for the local shelters. The month long event is called "Paw-It-Forward". The Nicosia's offer their customers store discounts based on the number of pounds of pet food they donate. Last year's event saw 3500 lbs of pet food donated and distributed to four local shelters in Wake and Johnson counties located near Raleigh, North Carolina.